We were super stoked to have our friends Tina & Sheila from South Carolina come out west for a visit. I promised them a week of sheer adventure and that's exactly what they got!!! :0)
On Saturday September 10th Scott and I drove to Las Vegas to pick up Tina & Sheila. After spending a few hours on the strip and grabbing some lunch, we continued our drive to Kingman, AZ and then on to Peach Springs, AZ where we spent the night. We even got to drive on the hisotric Route 66! The following morning was an early one as we woke early enough to make the remaining hour long drive to the Havasupai trailhead in the Grand Canyon and get on the trail(technically NOT the Grand Canyon because this hike is within the Havasupai Indian Tribe land boundaires).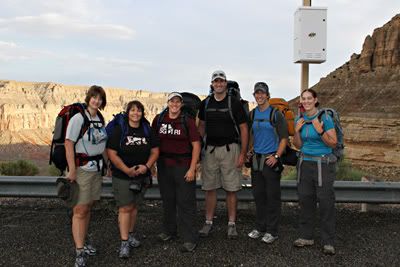 Scott's cousins Chris and Sarah joined us for the hike as well. The hike itself was 8 miles to the Indian village of Supai and another 2 miles to the campground. Not a bad hike at all. It was hauling the backpack that proved difficult toward the end. :0) We had the possibility of some rainy weather for a few days and it was just our luck that it found us on the way down. Going throught the village was a bit surprising as I didn't know what to expect. It was very small. The few houses were pretty primal looking on the outside. Most of the front doors opened up to fenced in yards that could double as a junk yards. However, the school building and church looked nice. We also discovered a small "house" that was an LDS church meeting house. Who would have thought???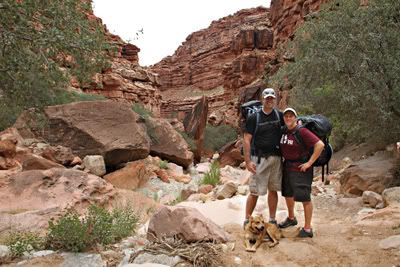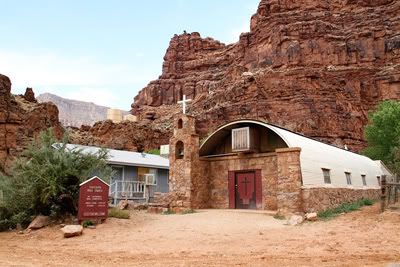 Just down from the village we sighted the first waterfall, Navajo Falls. Pretty cool since it's the first waterfall that you see. Mind boggling that something of the sort could exist out in the middle of the desert in no man's land. Then a little bit before getting to the campground the trail takes a downward plunge with the breathtaking Havasu Falls to the right. Absolutely AMAZING! I've seen a lot of things in my life and these falls are just unreal.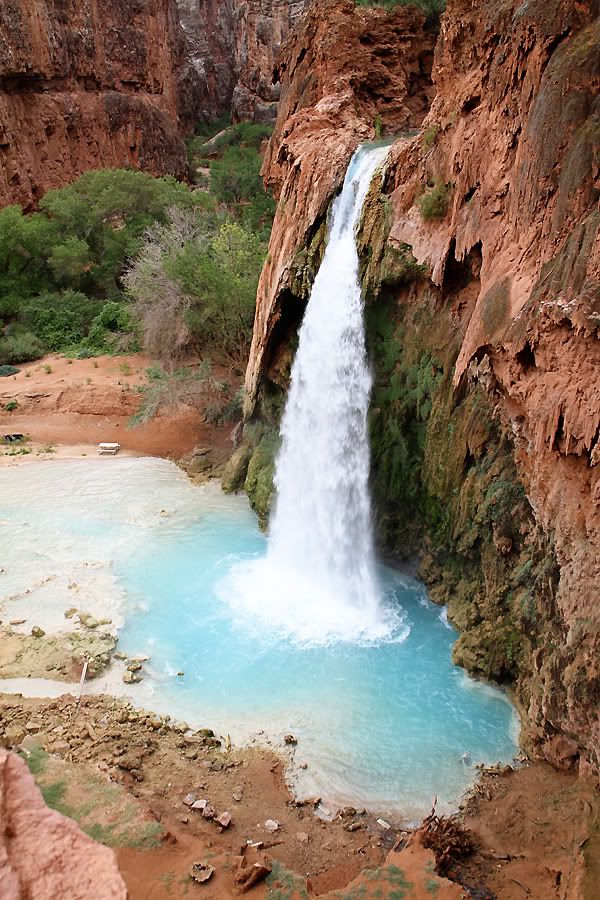 Because there was a storm looming we decided to head on down to the campground and get our tents set up in case the rain came sooner than later. Then we would go back up and see more of Havasu Falls. I could really sit at stare at them all day long. So cool!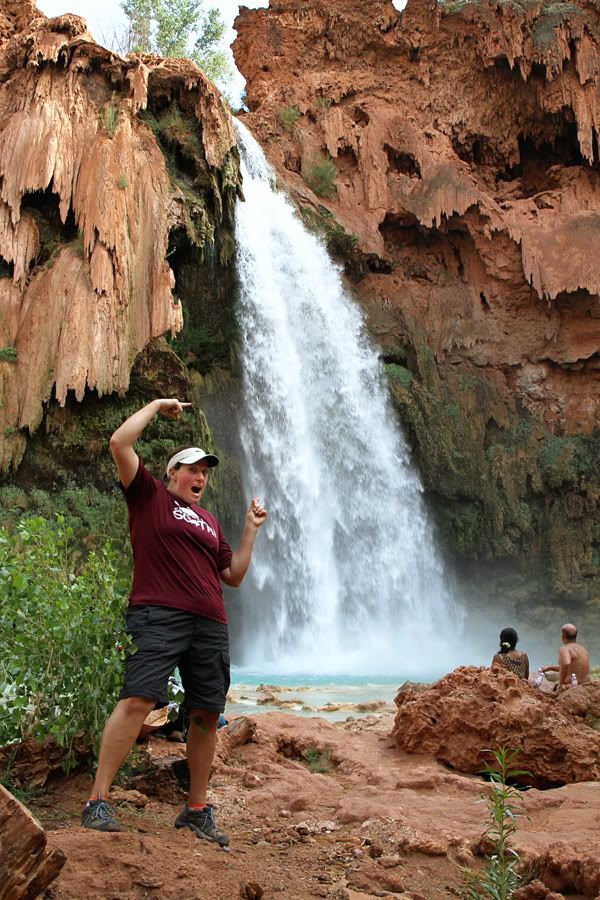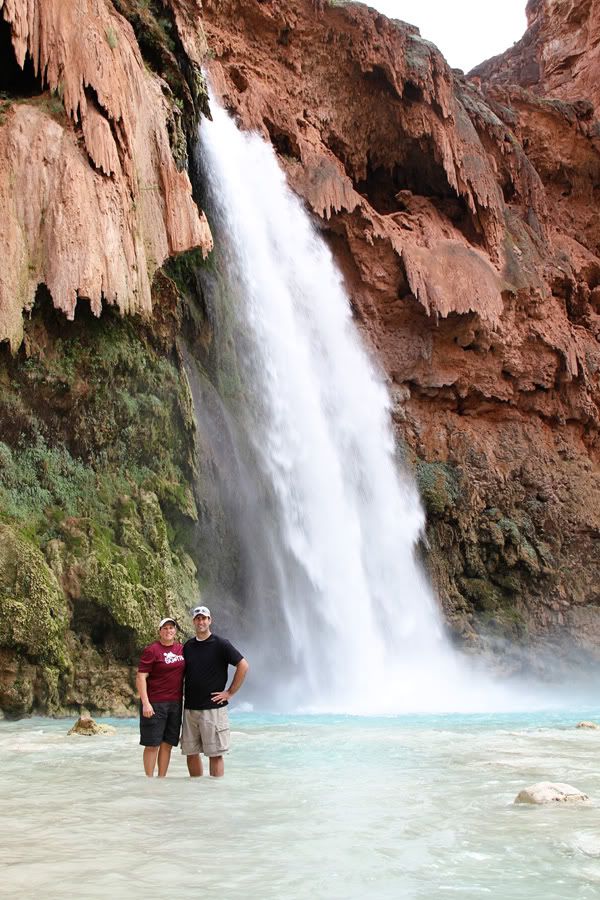 We went back to camp and soon after it started to rain. There is really nowhere to go for shelter down in the canyon so we finally resorted to climbing into the tents. We got in at about 6:00 p.m. amd found ourselves there for the rest of the night. It rained off and on all night with major bouts of thunder and lightning. Needless to say, it was a VERY LONG night. At one point Scott and I packed up all the stuff in out tent into our packs in case we needed a quick escape in the event of a flood. :0) The next morning (Monday the 12th) started at about 5:00 a.m. with Scott and I nearly getting trampled in our little tent by a wild Indian Horse! It was a close call!!! Since we were up, we ate some breakfast and headed down to Mooney Falls. We thought it was going to be a few miles away but it was actually right at the end of the campground. You see these falls from the top and then if you want to get to the bottom of them you have to actually climb down through these holes and then down some really steep spots on the mountainside using chains. I think there is an old wooden ladder at some point. ???!!!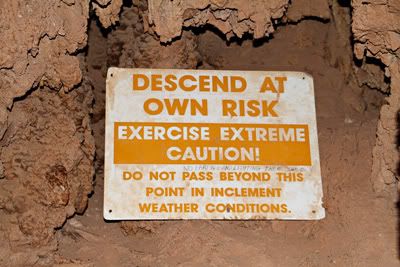 So the story goes like this . . . . we got about halfway down and I finally called it quits for me. There were seriously about 3 posted signs of CAUTION and DANGER as we were going down, not to mention someone wrote "Don't Die" in the sand below. Might I also add that the falls were named after an early prospector named D.W. Mooney who fell to his death while trying to climb up the mountain there. (Have I proved my point yet?) The others were going to try to go down further but eventually chickened out. I told Scott that he was worth more to me dead than alive but I was sure that the kids would prefer to have him return home. :0) We had done quite a bit of exploring and had heard that there were flash flood warnings for Monday evening so we decided to pack up and head out while conditions were still fair. We hiked back up to the village and decided to take the helicopter out for a speedier and painless exit. :0) Sure enough, as we were flying out (all 4 minutes of a ride) the rain came and it was dark black skies as far as we could see. It was the best decision we have ever made and the best $100 we've ever spent. :0) Despite getting out of the canyon early we still took forever to make the drive back home. We made a few stops along the way including at the new bridge overlooking the Hoover Dam. Pretty cool and a pretty darn fun and adventursome trip!